Remind Support
When logging in for the first time:
You must use a laptop or desktop computer to log in for the first time. After logging in for the first time, you can use the mobile app or a mobile browser if desired.
Logging in for the first time will "activate" your classes. Students and families will be able to see your class(es) listed on Remind once you log in.
About Remind
Reach students and families when you need to - on any device!
Remind is built for education, so personal information always stays private.
Teachers use Remind to help strengthen relationships with students and families.
How to Login & Setup your Rosters
Follow the steps below to access your rostered account and take advantage of your new tools!
1. Check your school email inbox for a Remind message
Having a hard time locating the Remind email OR need to start a new account?
If you can't find the Remind email in your school inbox or you wish to start a new account, go to this link and type in your school email address to access your rostered account.
If you are new to Remind: Look for an email with a link to claim your account. Your school created this account for you and may have provided rostered classes from your SIS. Click Claim your account in the email and follow the prompts to create a password and setup your account, and claim the classes created for you by your school.
If you already have an account on Remind: Look for an email with a link to claim your account. Click Claim your account in the email and when asked if you've used Remind before, select Yes, I have. You will then be prompted to enter your existing account credentials. Remind will link your existing Remind account with the one your school created. Follow the prompts to claim the classes selected for you by your school. You will still be able to access all of your pre-existing classes and contacts in your account.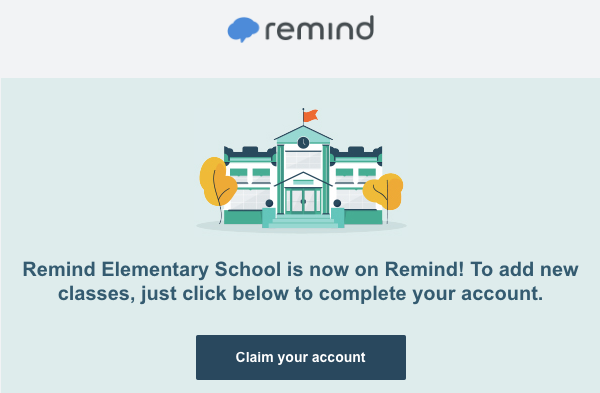 2. Claim your classes to complete your account
If your school rostered classes for you: Review your class list and click Finish to add those classes to your account and complete the set up. The classes will be added to your account without affecting any existing classes in your account.
*Please note, classes can be claimed by logging in to Remind through our website or on our mobile app.
If you'd like to archive your rostered classes, you can do so by clicking on the three dots to the right of the class name and selecting Archive. Once new classes are confirmed, you can archive the classes at any time. Archived classes can also be restored.
You are now ready to send your first Remind message!
To create your own classes: Learn how to create your own classes and begin sending messages.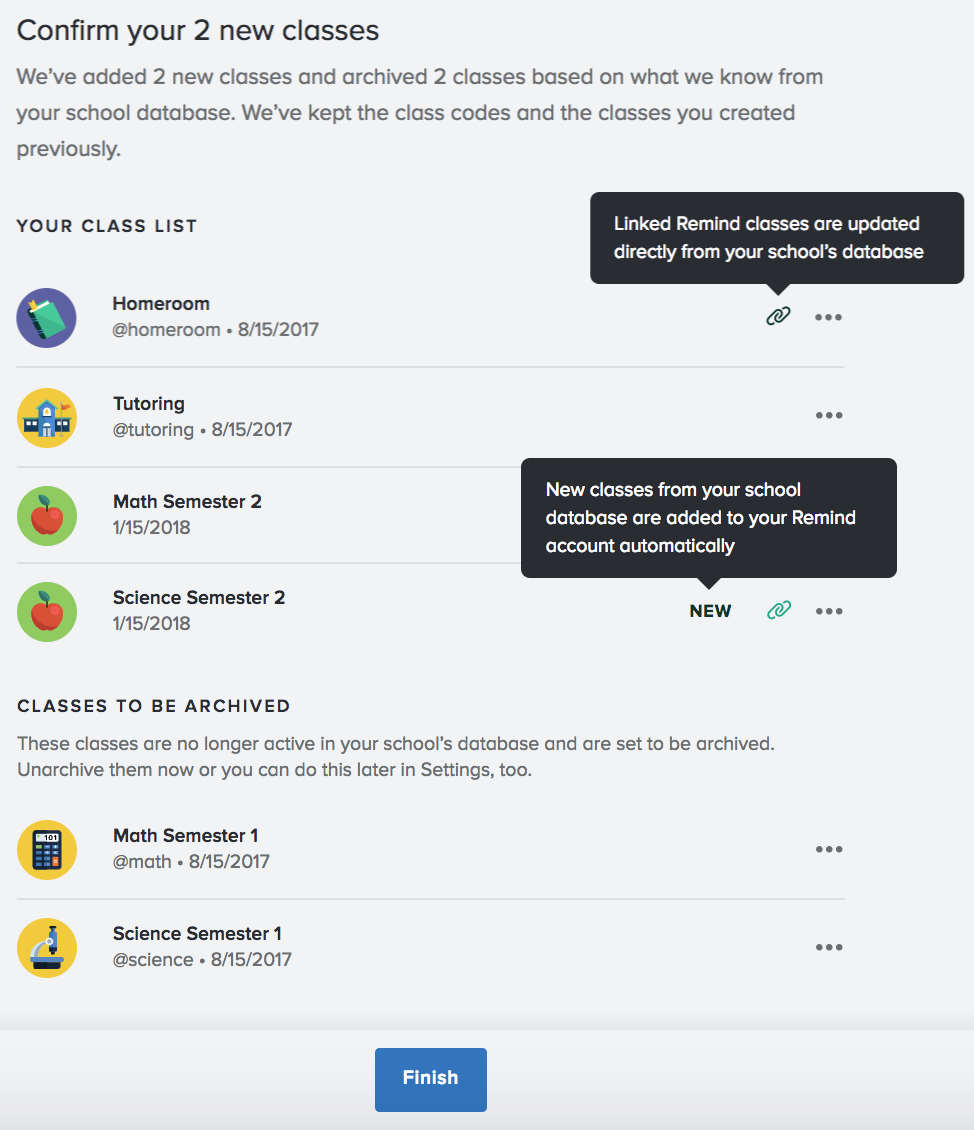 Already using Remind? Connect your existing classes.
Already using Remind? You'll want to make sure your classes are linked to your school to access upgraded features.
On the web
1. Select the class and click on the Settings tab.
2. Click on the drop-down list under "School" to select your school.
In the app
1. Click on the class name to access class settings.
2. Click on the drop-down menu under "School."
3. Choose your school from the drop-down list.
To send a message, click the blue pencil composer and select the class you would like to send your message to. Class announcements are sent to all members of your class. When a participant replies to a class announcement, only the class owner who sent the message will receive the response.
Group conversations allow you to select up to 9 other participants (totaling 10 in the conversation) to start a group conversation. When you send a message in your group conversation, all participants will see one another as well as the responses.
To find group conversations, scroll past your classes in the composer. An individual message is a chat between you and one other participant. Only you and the participant can see this type of message.
How to send an individual message:
1. Select "Messages" from the top navigation bar, and then select the Blue Pencil Icon and Message:

​
​


Under Choose Groups or People, type in the recipient's name and select the checkmark next to it and then select Continue.

​​​
​

A box will appear where you can type your message, include any attachments, and then select "send".

​
​
A random # from Remind will be used to send the message, but it will show your name as the sender.
You can add participant(s) to another class in the app and on web.
On Web
To copy one participant to another class, select the class, and then click on the participant you wish to copy. Click the 3 dots next to their name, then "Add to another class," and choose the class to copy them to.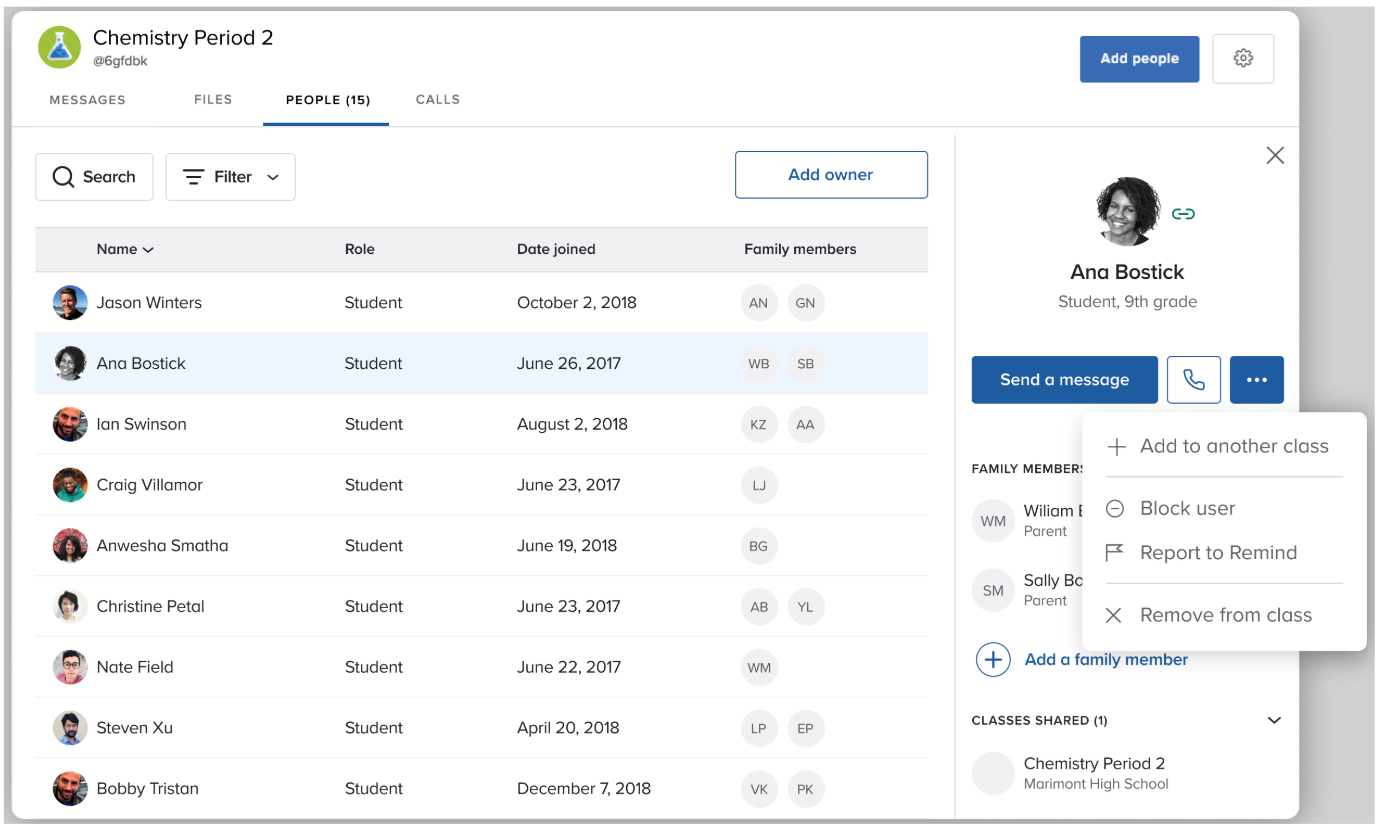 To bulk copy participants to another class, select the class, and then click on the circle left of each participant name that you wish to copy. Then click "Add to another class," and choose the class to copy them to.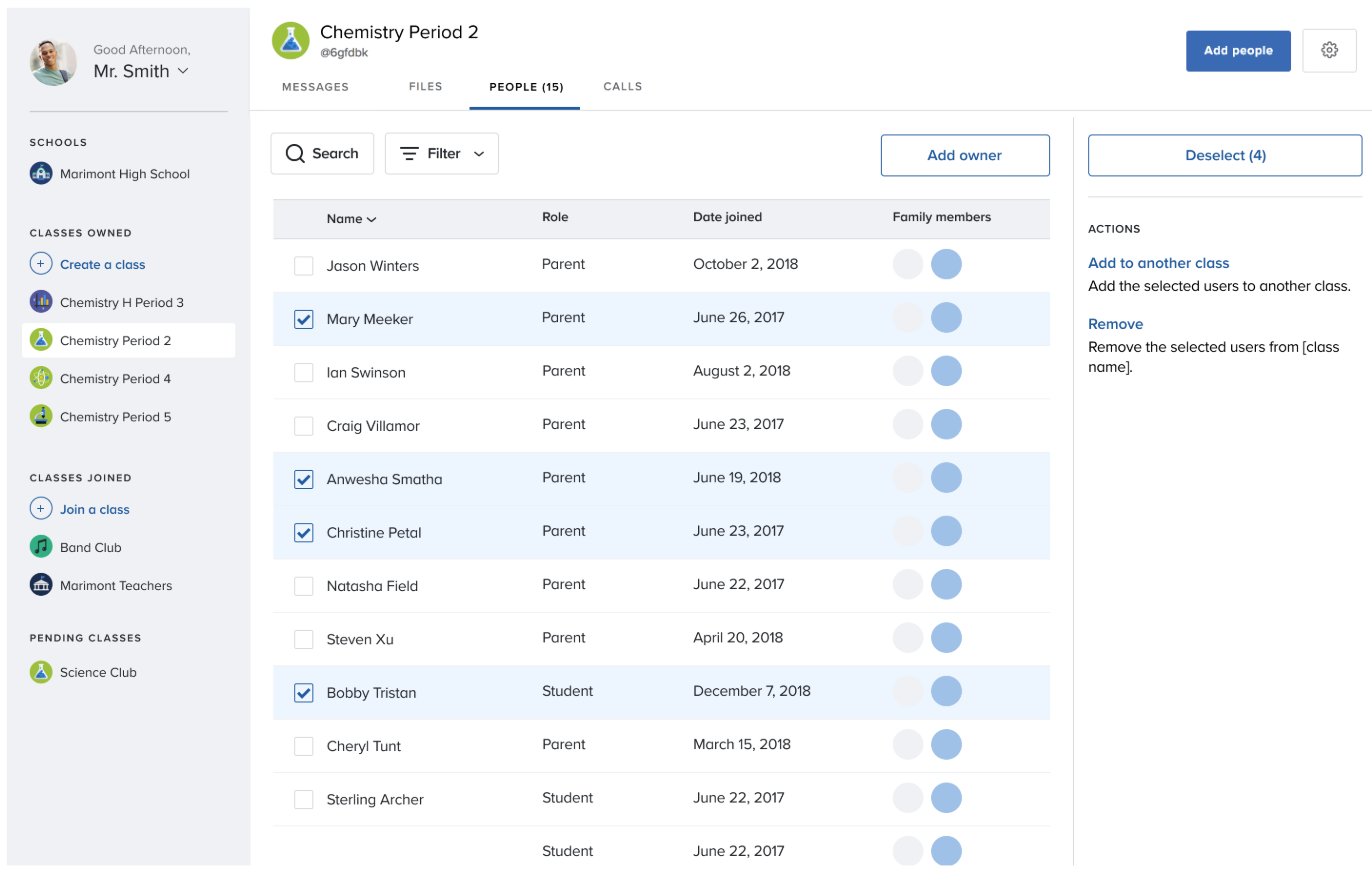 On the App
To copy one participant to another class, Go into the People tab in the participant's class and tap the 3 dots next to their name to bring up options, then tap "Add to another class." Choose which class they should also enrolled in and confirm!
Want to remove a participant? Click here to learn how!
You can translate messages into 80+ languages before you send using simple tools pictured below.
To add more members:
If you're in class, use In-person Instructions.
If you're sending instructions home, go to Printable PDFs.
To create new classes:
Choose a name for your class.
Choose a class code that people will use to join your class.
To share photos and resources:
Add photos, PDFs, files, and voice clips to your messages.
Share on Remind blurb, w/share on remind image
Schedule Future Announcements
To schedule an announcement to go out at a later time:
Save time by scheduling announcements to automatically send later.
Connected Apps and Accounts
Ensure assignments and resources are delivered to students and families.
Connect to one of your other education tools via Remind and select a file/assignment.
Remind enables you to make a live phone call from your cell phone without sharing your contact information. Through the app, you can call a student's family and have a one-on-one telephone conversation without ever sharing your personal phone number. So, you can have a much needed conversation without the risk of receiving a return call. This connectivity allows for you to maintain the relationships you've worked hard to build while maintaining the boundaries you need to function in this new "normal" teaching and learning environment.
From the Calls tab, click on the Make a Call button in the top right corner.
You can contact recipients with an available device (blue lightning bolt) if they're accepting voice calls.

If recipients don't have an available device or aren't accepting calls, you can send a message or voice clip instead.
Though you can initiate voice calls from your desktop, laptop, or tablet, voice calls are ultimately connected through your cell phone. Make sure your cell phone is within reach and connected to cell service!
After your voice call
Once complete, your voice call duration will be recorded in your conversation with the recipient. It will also appear in your call log and your message history.
Use call notes to record any call details or follow-ups. You can take notes during or after a call. These notes are also available in your conversation with the recipient.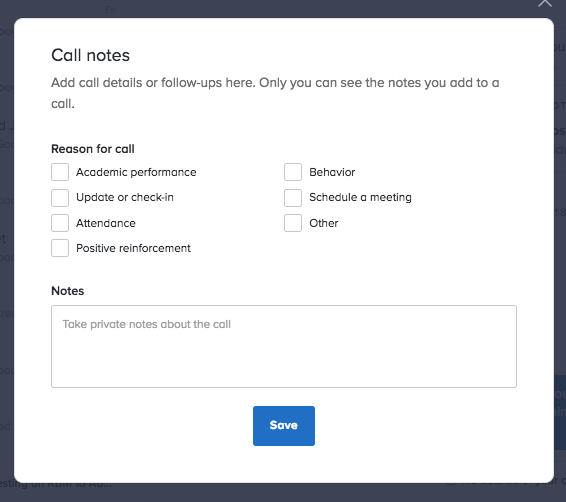 Getting Started for District Administrators / Principals
When to use Remind directly
Quick, Urgent Updates & Small Group/Internal Staff Groups
Remind is limited to 160 characters. Remind will send a text message, email, and push notification (depending on the notifications a person has turned on). This is good for quick updates and reminders.
When to use Remind to forward documents
For messages with detailed information and attachments or links, place your content into a PDF using Google Docs.
District Administrator/Principal Dashboard Overview
District Administrator/Principal Schoolwide Messaging